Hayabusa 2 successfully launched : MicrOmega is in space !
On the 3rd of December, the Japanese space agency has launched the Hayabusa 2 probe towards a primitive asteroid, named 1999JU3, that it will reach in 2018. This mission aims at analyzing this object in three complementary ways: in remote-sensing, with cameras and spectrometers; in-situ, with instruments on landers; and by laboratory analysis of samples that will be collected on the asteroid and returned to Earth in 2021.
The main lander, MASCOT, with a total mass of 10kg, has been developed in collaboration between DLR (Bremen) and CNES. Its main instrument is the hyperspectral microscope MicrOmega, which is built at IAS and gives in each pixel a spectrum in an infrared band providing diagnostics of the main components, minerals, ices, and organic molecules. Thus, for the first time, an analysis of the surface of a small primordial body will be performed at the microscopic scale. This information will contribute critically to the understanding of the processes and ingredients that led to the diversity of planetary evolution.
For more information: http://smsc.cnes.fr/MASCOT/Fr/, http://science.nasa.gov/science-news/science-at-nasa/2014/04dec_hayabusa2/
Contact at IAS: Jean-Pierre Bibring, jean-pierre.bibring @ ias.u-psud.fr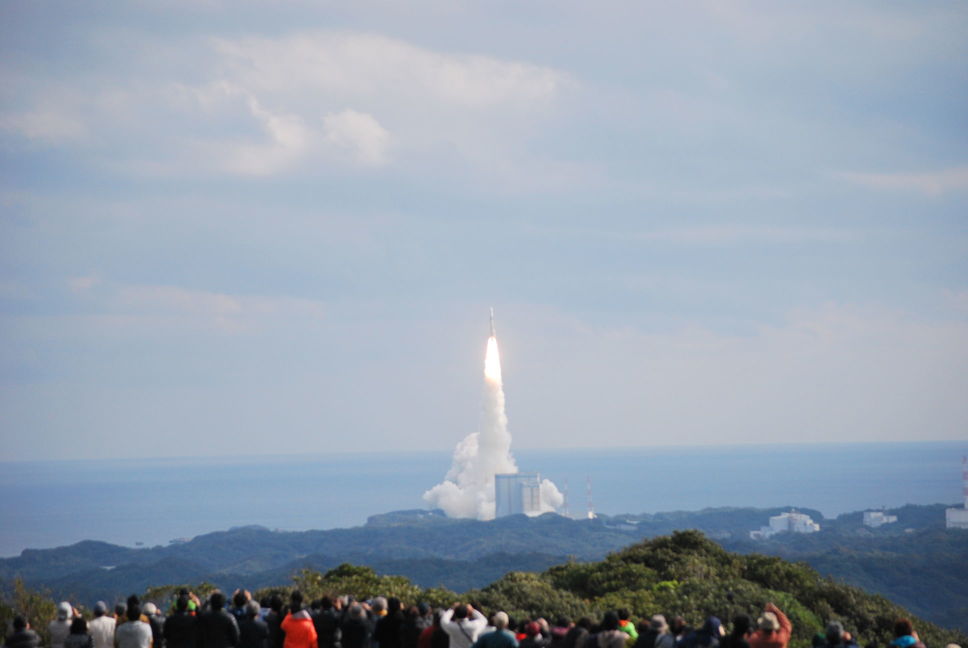 Picture of the Hayabusa 2 launch, taken by Vincent Hamm, present on the launch site with part of the MicrOmega team.